Employment
Jeremiah Davis was previously incarcerated and had difficulty securing employment before discovering Goodwill. He is a testament in perseverance, earning several promotions for his extraordinary work ethic. Jeremiah is currently the manager of the south side Goodwill Outlet, where he is responsible for 80 employees — 75% of whom have one or more barriers to employment. He has made great strides in his own growth, but he also pays it forward through his mentorship of other employees, directly supporting the mission of Goodwill. Read Jeremiah's full story.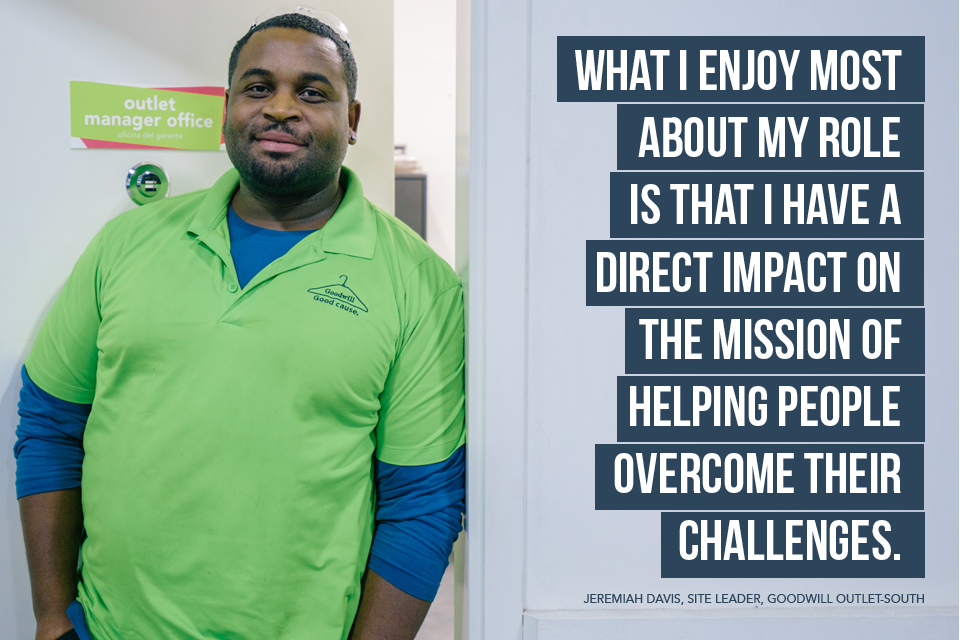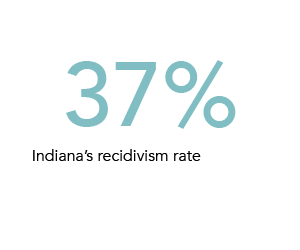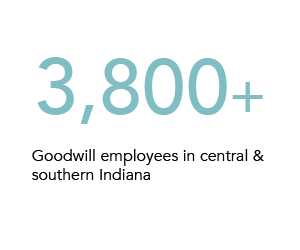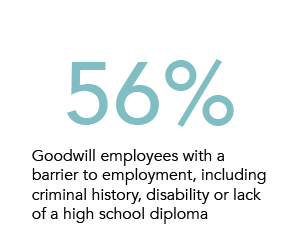 Education
The likelihood of returning to high school begins to decline significantly once an individual enters their third decade of life, but returning to school at the age of 47 isn't the only characteristic that separates Brenda Leake from most of her classmates. Born with cerebral palsy, Brenda was told she would never be able to drive, have children or graduate from high school. Nevertheless, she's been driving for 25 years and has two sons, ages 20 and 17. She graduated from The Excel Center®, Goodwill's high school for adults, in January 2017, and continues to be a productive member of the e-commerce team at the Avon Goodwill, where she has worked for four years. Read Brenda's full story.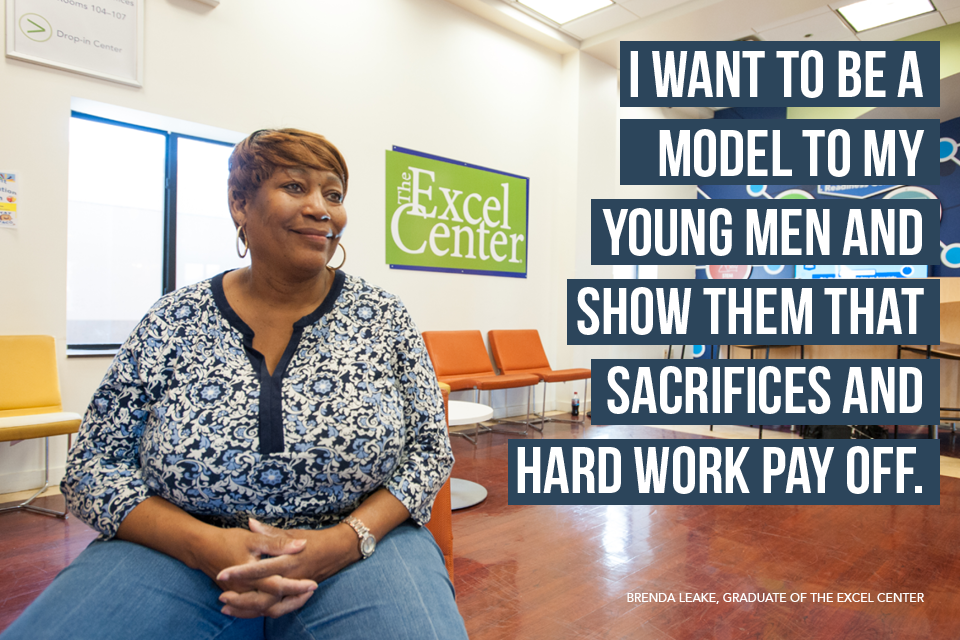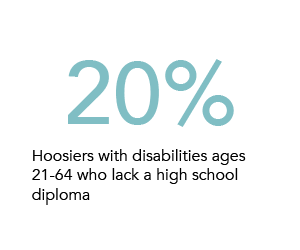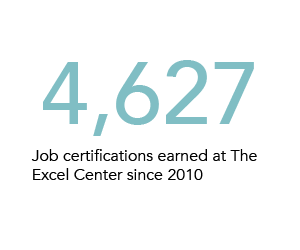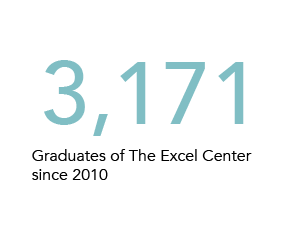 Health
Dianna Tolentino enrolled in Goodwill's Nurse-Family Partnership®, a nurse home visitation program for low-income, first-time moms, in 2013. Her nurse referred her to a study at IU Health for pregnant women that detected complications in Dianna's pregnancy she may have otherwise been unaware of. After several weeks on bed rest, she delivered a healthy, if slightly early, baby girl. Dianna's nurse also referred her husband to The Excel Center, where he earned his diploma and an Early Childhood Learning Certification. Dianna was connected to Goodwill's job placement team and accepted a position at The Excel Center.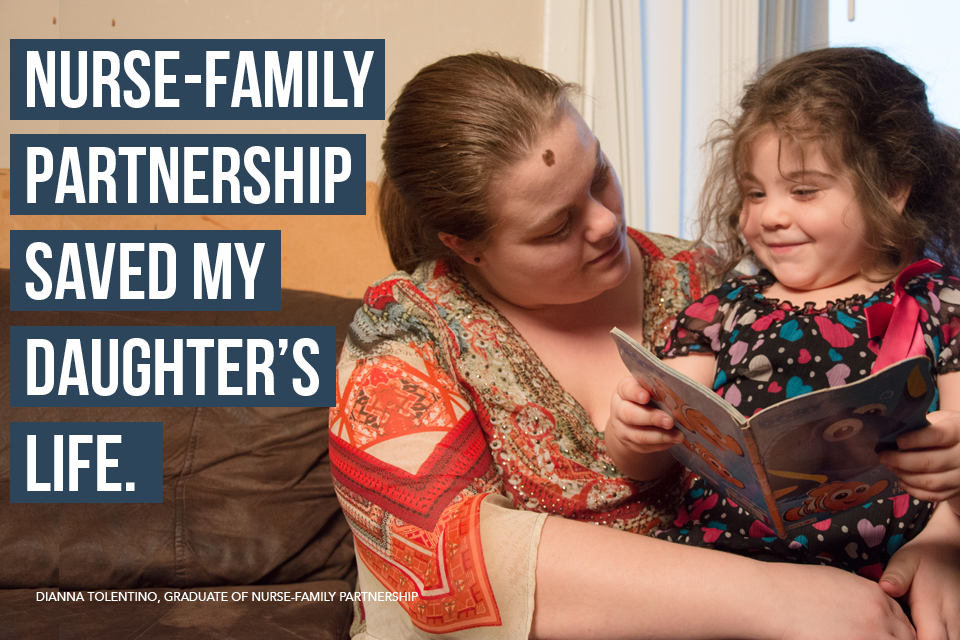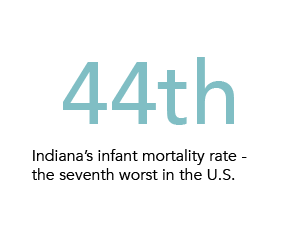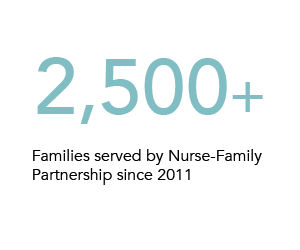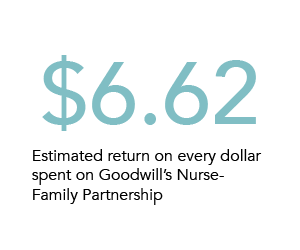 Ways to Get Involved with Goodwill
Donate your gently used clothing and household items

Schedule a Collect and Connect clothing drive at your church or workplace

Arrange a donation pickup for furniture and large donations

Mentor a student at Indianapolis Metropolitan High School

Contract with Goodwill Commercial Services for light manufacturing services for your business

Remember Goodwill in your estate plans

Join a tour to learn more about what we do

Donate your car to Goodwill

Make a stock gift

Volunteer at Goodwill
Connect with Goodwill on any of these opportunities at 317-524-4265 or gwfoundation@goodwillindy.org.
Congratulations to Goodwill of Central & Southern Indiana's 2018 Award Recipients!

Barbara Robinson Memorial Award - Courtney Person
Currently a Team Leader in Goodwill's Commercial Services division, Courtney started in 2012 as a janitor at the Minton-Capehart Federal Building. She is soon to be a graduate of The Excel Center® and recently started classes for a Dental Radiology Certification. The award is named for Barbara Robinson (1925-1994), a longtime Goodwill employee and advocate for persons with disabilities.



Connections Award - Eskenazi Health
One of the strongest (and earliest) supporters of Goodwill's Nurse-Family Partnership®, Eskenazi Health made 851 referrals to the program last year alone. They have also worked with Goodwill on a number of work-based learning and hiring initiatives — leading to new jobs for 21 Goodwill candidates since 2013.



Education Achievement Award - Pency Engmawii
A 2017 graduate of The Excel Center, Pency's journey from her native Burma to completing high school in the U.S. included three years as a refugee in Malaysia and, later, a full schedule of classes while working a full-time job. Now, she's pursuing her bachelor's degree at Ivy Tech.



Employment Achievement Award - Dylan Snell
Overcoming obstacles such as homelessness and mistakes from his past, today Dylan is succeeding in his newest role — a full-time job with Kirby Risk. Along the way, he earned his diploma at The Excel Center and spent four years as a valued member of the team at Goodwill's store in Anderson.



Health Achievement Award - Mansa Samlafo
Originally from Ghana, Mansa moved to the U.S. in 2012 and enrolled in Goodwill's Nurse-Family Partnership soon after. Today, she's the proud mom of daughter, Dromo, and a valued member of Goodwill's Information Technology team, serving as an Administrative Coordinator.



Indianapolis Metropolitan High School Outstanding Student Achievement Award - Chris Pack
A top student for all four years, Chris has run track, been the videographer for the boys' basketball team, is the editor-in-chief of the school newspaper, is one of just two in his class to qualify to take courses at IUPUI and more. He plans to study graphic design in college.



Retail Site of the Year Award - Lafayette Road Goodwill Store
The Lafayette Road store demonstrates operational excellence and outstanding commitment to Goodwill's mission. The team prides itself on giving great customer service, providing opportunities for employees with barriers, and creating a workplace that is fun and safe for all.